Institución: STEM Team East
STEM Team East is a non-profit organization that aims to promote the successes of a STEM education to school pupils; to provide teacher continuing professional development (CPD) through developing links with STEM employers; to enhance and enrich the delivery of a STEM education and enable progression pathways into STEM careers. Our key method of engaging with schools is through the national STEM Ambassador scheme in which expert industry, business and academic professionals work with schools on a voluntary basis – often supported also by their home organisations.
Team members:
Tony Houghton

Dr. Tony Houghton is STEM Collaborative Education Adviser with STEM TEAM EAST. He is a member of the University of Cambridge, Magdalene College with a degree in Psychology and a doctorate in Communications Engineering from University College, London, a year of which was undertaken with MIT Media Lab. He leads educational programmes bringing together business, university, non- profits and schools engaging both local and/or global communities, and has worked with Microsoft, CISCO, Pepsico, DHL, Essex County Council, Coventry University, Specialist Schools Academy Trust, Eurescom, IET, STEMNET, Nationwide, Chunghwa Telecom and Sony in Singapore.
Dr. Adrian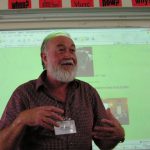 holds degrees in mathematics and computer science, and taught in secondary schools, further, teacher and higher education. He has a personal chair in mathematics and computing education and fellowships at universities of Southampton, London, Malaysia and Amsterdam. He has an international reputation as an author and speaker on Information Technology in mathematics, science and technology education. He has been an advisor for the UK and Colombian governments, as well as the World Bank. He maintains close contact with teachers and students through work with the subject teachers' professional associations, as well as major multinational technology companies and agencies. Adrian leads a group of school heads' and STEM subject teachers' associations, which has developed a whole-school, sustainable, bottom-up strategy for schools to respond directly to the worsening technological skills shortages threatening UK economic competitiveness and future prosperity. He has established the Cambridge Centre for Innovation in Technological Education (CCITE) to develop, test and disseminate the knowhow and support that schools will need to make that response.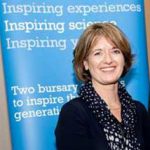 Elizabeth Crilly is the Director of STEM Team East. Elizabeth studied Pure and Applied Physics at Queens University Belfast and then gained an MSc in Bio-Medical Engineering and Medical Imaging at Aberdeen University.  She worked as a research scientist at Unilever and Smith & Nephew Research before having a career break to start a family. During this time she did a PGCE at Homerton College, Cambridge and taught Physics and Mathematics for 8 years in secondary schools in Bedfordshire. In 2008 she held an Ogden Trust Teaching Fellowship. Seeking a return to research she was awarded a Daphne Jackson Fellowship – a scheme for women returners to Science and Engineering.  On the strength of this she was able to return to a research position with Cambridge University working on a medical electronics project sponsored by the British Heart Foundation and then on to her current post as Director for an education charity STEM Team east.
The charity works to enhance and enrich the delivery of the Science, Technology, Engineering and Mathematics (STEM) curriculum by creating opportunities for STEM professionals to engage with schools and young people. This programme raises awareness of the importance of STEM and helps pupils achieve academic success in STEM and to realise their potential to follow careers in STEM.  Elizabeth also works as a consultant for the Ogden Trust and Director for the Cambridge Science Centre.